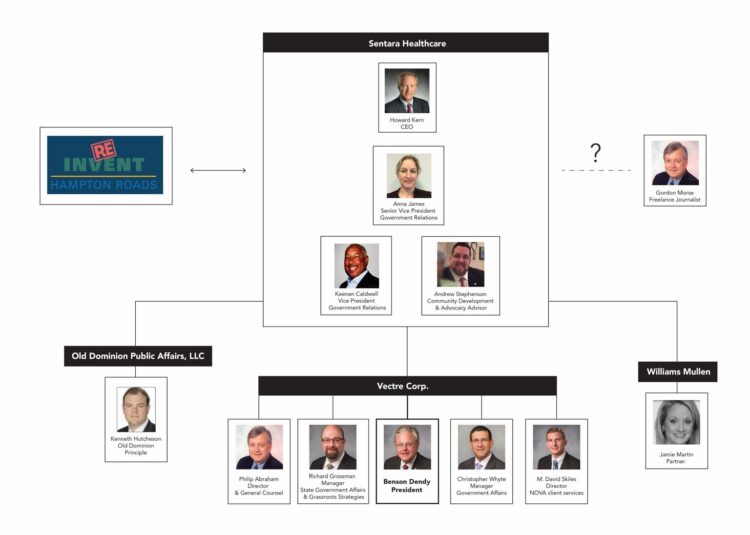 Sentara is $6 billion health care conglomerate that enjoys tax-exempt status with the IRS as a charitable organization. It has amassed a near-monopoly grip on the health care market of southeastern Virginia, in part through its heavy use of lobbyists, attorneys and others.
Checks and Balances Project (C&BP) has compiled the first-ever look at the size and reach of the Sentara Lobby, including the individuals and organizations who comprise it.
C&BP has been investigating how non-profit Sentara uses the lobbying and influence to crush competitors, the lengths it goes to do that and the impact its activities have on average citizens.
STAFF
CONTRACT LOBBYISTS
Vectre Corp. This Richmond lobbying firm has deployed up to five lobbyists per year to work state government. Vectre listed 20 bills it tracked through a year's General Assembly. The company also lobbied on Sentara's behalf with the Governor's office and other executive branch agencies. Here are Vectre's lobbyists who have been listed as working on the Sentara account in the last two years:
This boutique lobbying firm has represented Sentara and Optima in Richmond with one lobbyist:
Kenneth Hutcheson. For the last 2 1/2 years. Hutcheson has also lobbied for Optima, Sentara's affiliated insurance company. Lobbying records say he represented the company before the legislature and executive branch.
While not a lobbying firm, this Richmond law firm handles most of Sentara's Certificate of Public Need (COPN) litigation in Virginia. It also represents Sentara in a variety of civil cases. One of the firm's former attorneys, Ashley Provost, is now Sentara's associate counsel.
Jamie Martin. The head of Williams Mullen's health care practice, she has worked as an outside counsel for Sentara for more than 20 years. Records from the Virginia health commissioner's office show that Martin submitted Sentara's objections to a rival hospital's application for a COPN permit for a new facility. She also participated as a legal advisor to a 2015 COPN work group, representing herself only as an outside attorney. Some of her recommendations to the group would have benefited Sentara financially.
ALLIED PLAYERS
Ray Locker is enterprise and investigative editor of Checks and Balances Project, an investigative watchdog blog holding government officials, lobbyists, and corporate management accountable to the public. Funding for C&BP is provided by Renew American Prosperity and individual donors.
You may also want to read:
Virginia's Certificate of Public Need Process Needs a Road Map
5 Things To Know About Certificate of Public Need Laws
Attorney Jamie B. Martin Was "Legal Advisor" to COPN Reform Group — But Didn't Publicly Disclose Sentara Connection
Judge Ruled for Sentara, Once Represented the Company with Sentara's Lawyer