– Wind Farm Tax Revenue Raises Paulding County's Bond Rating, While Fossil Fuel Operatives Suppress Economic Growth in Neighboring Van Wert
– Economic Development Officials Confirm Importance of a High Bond Rating
(First in a series)
This is a tale of two Ohio counties. While Van Wert County ended all wind energy development last year, Paulding, located to its north, embraced it. The results are that Paulding County taxpayers are benefiting from increased county tax revenue, stronger public schools and a boost in its bond rating to Aa3 from A1 by the international agency Moody's Investor Service.
What's the Significance of a Higher Bond Rating?
"It'll save the county money," Jerry Zielke, Paulding County's economic development director told us. "It will help our community to build new projects. Our water and sewage district can refinance its debt. It's critical to future infrastructure investments."
The $700 million in wind development since 2013 has been a financial windfall for Paulding, generating $2.47 million in tax revenue last year from three existing wind farms, according to Zielke.
The new Northwest Ohio Wind Farm that came online in 2018 providing electricity to all of General Motor's Ohio and Indiana manufacturing plants, and two other wind farms that have been approved, are expected to add $2.5 million or more annually in tax income.That totals nearly $5 million per year in wind tax revenue.
"Do you know how much development we'd need to have here to equal that amount of revenue?" Zielke declared. "It doesn't make us wealthy, but it gets us out of the hole."
A major beneficiary of the income is Wayne Trace High School in Haviland, Ohio with nearly $1 million of new funding because of the turbines.
Van Wert County Stands Still
It's not that Van Wert County, stuck with a lower Moody's rating of A1, has no wind development. The 152-turbine Blue Creek Wind Farm spreads across the border of the two counties with 115 in Van Wert County. Blue Creek generates more than $2 million in tax revenue for Van Wert County — a greater amount than any other development project.
But last year, Van Wert County decided to go no further.
The May 2018 Republican primary election for Van Wert County Commissioner became a referendum of whether or not a candidate was for or against further wind development. The pro-wind candidate lost. The local Times-Bulletin newspaper reported that "when wind originally made its way to Van Wert," winning candidate, Thad Lichtensteiger, "was totally on board, but as he began talking to his constituents, he developed a different view of the topic."
An Echo Chamber of "Concerned Citizens"
There is an echo chamber of anti-wind groups in Ohio that are tied together by Save Our Skyline, a repository of anonymous blog posts and disinformation, owned by an anonymous group of supposedly "concerned citizens from Ohio."
C&BP will examine the role played by this anonymous group in part two of this series.
Economic Development Officials Weigh In
But first, we called the economic development directors of other northwest Ohio counties to talk about the developments in Paulding County. We were unable to reach Hardin County's Jon Cross, but we did get through to several others.
"Obviously it is," said David Zak, president & CEO of the Seneca Industrial & Economic Development Corporation, when asked if he thought a higher bond rating was important. "You don't need a degree to know that. A bond rating determines the cost of money."
When we asked Beth Hannam, executive director of the Sandusky County Economic Development Corp, if she was surprised by Paulding County's anticipated $5 million in tax revenue, she responded: "Yes. When you think about it, it's a lot."
Stacy Adam, executive director of the Van Wert Area Economic Development Corporation, was reluctant to comment but said, "The issue really is the setbacks."
Seitz and Randazzo's Anti-Wind Crusade
Adams was referring to the anonymous, last-minute insertion of language into a 2014 Ohio state budget bill that mandated wind turbines be set at a minimum distance of 1,125 feet from adjacent property. The minimum distance had previously been 550 feet.
Embattled House Majority Floor Leader Bill Seitz — then an Ohio State Senator — was the only lawmaker to speak in favor of the huge setback during less than 10 minutes of discussion on the Ohio Senate floor. He has repeatedly justified and defended the setback provision, despite being a self-avowed "free-market conservative" that should not be picking energy winners and losers.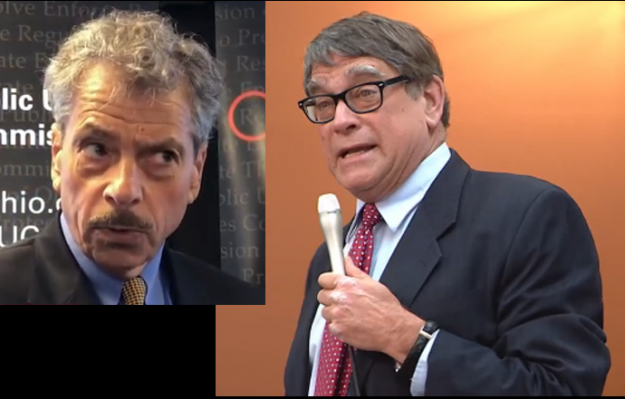 Emails uncovered by Checks and Balances Project between Seitz and influential lobbyist Sam Randazzo – known as "the Randazzler" – supplied Seitz with eight critiques of a budget amendment that Seitz used to support his efforts to block changes to the setback rule in 2017 that would benefit wind development.
Recently, a committee of the Ohio Public Utilities Commission (PUCO) sent the names of four individuals to Governor Mike DeWine to fill a soon to be vacant seat. Then, on February 4, 2019 PUCO Chairman Asim Haque resigned his top position effective March 1.
Hours later, Gov. DeWine chose Randazzo to chair the powerful Commission.
(In Part Two, we'll examine how a sophisticated online and social media effort by fossil fuel advocates has convinced many Ohioans to reject wind development.)
Scott Peterson is executive director of Checks and Balances Project, an investigative blog that seeks to hold government officials, lobbyists and corporate management accountable to the public. Funding for C&BP comes from sustainable economy philanthropies and donors.
You May Also Want to Read:
Coal-Backed Anti-Wind Guru Barrels into Ohio's Seneca County to Attack Wind Energy
Anti-Wind Gadfly's Propaganda Provokes "Angst and Fear" in Ohio's Seneca County
Seitz Phone Log Provides Insights into His Contacts with Ohio Energy Lobbyists
Powerful Lobbyist Steered Seitz Effort to Block Ohio Wind Power Jobs