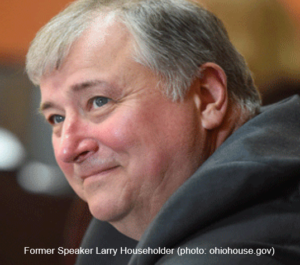 The conviction of former Ohio House speaker Larry Householder and state Republican Party chairman Matt Borges in a $61 million bribery trial ends just one chapter in a long-running saga of corruption in Ohio that Checks & Balances Project has uncovered over the last decade.
At the heart of the scandal is FirstEnergy, a fossil fuel-dominated utility that desperately needed a $1.3 billion bailout for its uncompetitive nuclear power and coal plants.
Prosecutors successfully detailed how $61 million was funneled into accounts controlled by Householder for his political and personal use. Much of that money was spent fighting a statewide ballot proposal that would have overturned HB6, the bill that bailed out the power plants.
Although FirstEnergy was not identified by the FBI as the company behind the bribes, the Justice Department did note that FirstEnergy agreed to pay a $230 million fine for "conspiring to bribe public officials."
Ohio public officials have spent much of the last 10 years blocking attempts to promote renewable energy in the state, often at the behest of fossil-fuel interests.
"The Randazzler"
Sam Randazzo, Ohio's former top energy and utility regulator, was a longtime partner at the law firm of McNees Wallace & Nurick LLC. Nicknamed the "The Randazzler" for his extensive connections to state politicians, Randazzo spent decades regularly attacking energy efficiency and renewables while promoting the fossil fuel industry. He was described by his firm as the "chief guide on Ohio utility legislation."
During his 10-year service on the Public Utilities Commission Nominating Council, Randazzo was close to Householder. He also had longstanding ties to another disgraced former Speaker, Cliff Rosenberger, who resigned amid an FBI investigation into his "lavish lifestyle" and "relationships with lobbyists and donors."
Ten days after Householder was elected House speaker on January 7, 2019, Randazzo resigned from the PUC Nominating Council, and Householder replaced him with Randazzo's business partner Scott Elisar. Nominating Council Chair Michael Koren, a lobbyist for FirstEnergy's $1.3B bailout bill HB6, nominated Randazzo to be chair of the PUC. And on February 4, Gov. Mike DeWine announced Randazzo's appointment.
As PUC Chair, Randazzo has defended FirstEnergy $1.3 billion bailout of uncompetitive nuclear power and coal plants and favored polluting fossil fuels and utilities over energy efficiency and renewable energy.
Company admits bribes
In 2021, FirstEnergy admitted in a deferred prosecution agreement with the Justice Department that it paid Randazzo $4.3 million in bribes. The company said Randazzo aided their effort to shape regulations that helped them save hundreds of millions of dollars while he led the PUC.
Randazzo also worked with William Seitz, a Republican Ohio legislator who long sought to dismantle the state's renewable energy requirements.
Seitz: No regrets
When reached by C&BP, Seitz said he had no regrets about supporting HB6, despite FirstEnergy's conduct and the convictions of Householder and Borges.
"No, I do not," Seitz said in an email. "The bill saves the ratepayers $2.3 billion over its life, per the Legislative Service Committee, the official arbiter of bill fiscal impacts. That sum increased to $3.4 billion after we repealed the nuclear subsidy and the decoupling language, again per LSC (not me)."
Other analysts have challenged the LSC estimates, however.
Seitz, who was the first defense witness to testify for Householder. During the trial, he said he backed HB6 as part of an effort to protect the diversity of Ohio's electric-generation system, which included coal and nuclear plants.
He told C&BP he had no regrets about his testimony.
"I was subpoenaed to testify and did so truthfully," he told C&BP. "I voted to remove Householder as speaker (in fact, I made the motion) but I voted against his removal as a House member because you are innocent until proven guilty and because his conduct did not fit the statutory description of 'disorderly conduct.' Finally, I cannot speak to First Energy's conduct because I had nothing to do with Generation Now or any of the other 501(C)(4)'s mentioned in the trial."
Seitz, the current House majority leader, has had a long and sometimes controversial history as a legislator. In 2018, C&BP reported on his comments at a goodbye celebration for the chief of staff of Ohio's departing House speaker.
The March 18, 2018 report said: "When Seitz took the podium at the event, he joked about former state Sen. Cliff Hite, who resigned last October after admitting that he had "sometimes asked for hugs and talked with [a state employee] in a way that was not appropriate for a married man, father and grandfather like myself." Yet, a complaint by the employee said she had rejected Hite's advances more than a dozen times over two months.
"Seitz, at the microphone, declared that Hite's story could be set to Marvin Gaye's song, 'Let's Get It On.' Pausing for laughter, he added, "Or better yet, 'The Answer Is Blowing in The Wind.'" He demeaned another female colleague in the legislature, saying she wears a "tin-foil hat."
"At least one female legislator in attendance walked out. An Ashtabula County Republican candidate for state treasurer, along with four female Democratic legislators, have called for Seitz to resign. The husband and campaign manager for a female Republican state Senator called Seitz and Sen. Matt Huffman, who had also made inappropriate comments, "drunken bullies."
Leaving the event, Seitz fell and broke his ankle."
You may also want to read:
Powerful Lobbyist Steered Seitz Effort to Block Ohio Wind Power Jobs
Ohio PUC Chair Randazzo's Ties to Players in $61M FirstEnergy Scandal Raise Questions
Randazzo Secretly Bought 5 Ohio Properties Starting in 2013
Ray Locker is the executive director for Checks and Balances Project, an investigative watchdog blog holding government officials, lobbyists, and corporate management accountable to the public. Funding for C&BP is provided by Renew American Prosperity and individual donors.